Friday 3rd February 2023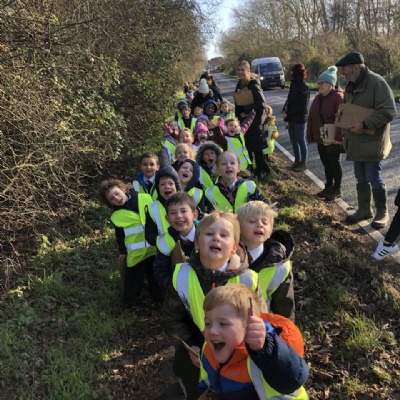 Talk homework
This week we have been learning about reptiles. We had lots of fun exploring what their features are and could name lots of different types of reptiles. Talk to your grownups about what you have learnt.
Reading
Thank you to everyone who has been logging their reading on our new Boom Reader app! Please ensure that you are reading EVERY DAY with your child and logging it on the Boom Reader app.
Please make sure that you send your child into school with their reading folder every day as we will be reading with your children in school at least once a week.
Spellings
The children will be tested on their High Frequency words on Monday. Please ensure your child has practised their dictation sentence(s) too.
Group 1

Group 2

Group 3

they

today

pretty

do

friend

plant

put

school

children

go

his

beautiful

our

where

behind

here

house

climb

They do put our books away.

Today my friend went to school near his house.

The children had a beautiful plant.

The parents closed the pretty door behind them.
In English this week Bramble Class have been exploring Anna's character in our Power of Reading book, 'How to Find Gold'. The children could talk about what she looks like, and what her personality is like based on what we know about her in the story!
In Willow Class the children have used their story boards to support them in writing their own adventure story about finding gold! The children had some amazing ideas and used everything that we have been learning in our writing sessions to help them in their independent work. We are really proud of their finished stories! J.
We finished the week with an end of unit assessment in Maths to give the children an opportunity to show us their understanding of number and place value to 20. The children have worked really hard and we are really proud of their learning!
This week in our Global Learning topic 'Can we Sail from here to the Sea?' took us on a walk down Mill Road to Buckden Marina. The children completed an environmental survey to think about the locality and how we feel about it. The children identified the River Great Ouse as a natural feature of the environment and we talked about how the Marina itself was made by humans in 1963 and houses over 200 boats! We will be exploring the journey of the River Great Ouse from source to sea next week and finding out if we really can sail from here to the sea!
Thank you so much to our fantastic parent volunteers for walking down to the Marina with us and supporting us with our learning – the walk was lots of fun and the children did so well to get down and back in the time that we had!
In Art this week we have been looking at the artist Hokusai who used a printing technique to create beautiful pictures of water. We have explored mark making to show different types of waves and have designed our own picture of water which we will be turning into a relief print next week – we are really excited to see the final outcome!
The Year 1 email address in a direct way of contacting the Year 1 Teachers: year1@buckdenacademy.org
Best wishes,
The Year 1 Team