31st March 2023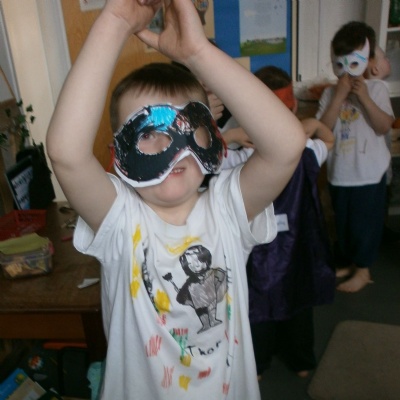 Talk Homework- Following on from our PSHE lesson this week, discuss safe usage of medicines and careful storage of dangerous household items such as cleaning equipment.
Reading at least 3 times a week and record on Boom reader app. This week's shared reader text on the Success for All website was Jam Tarts in the Dark for you to share at home.
How amazing your children all were during our Super Hero dance yesterday. Their costumes were so creative. . They all worked so hard to sew the capes onto their costumes. They then danced so confidently, we were very proud of them.
In maths, we have been learning about subtraction. We sang the rhymes '10 in a Bed' and '10 Fat Sausages' to see how the numbers decrease as an amount is taken away. We then moved onto using 10 frames to practically solve subtraction calculations using counters and today we wrote our own subtraction number sentences.
Our Science super power this week has been air pressure and air resistance. The children had a lot of fun exploring parachutes. The wind made this particularly interesting! We then went up to the field with a foot rocket and propelled it into the air learning about air pressure and the trajectory of the rocket. Only one was lost over the fence with someone's forceful foot launch!
On Monday, we visited the church for our Easter service with Father David. The children joined in very well with the singing.
Have a wonderful Easter break. Our next topic is 'Down at the Bottom of the Garden' if you want to start thinking about this with your child over the break that would be excellent.