17th March 2023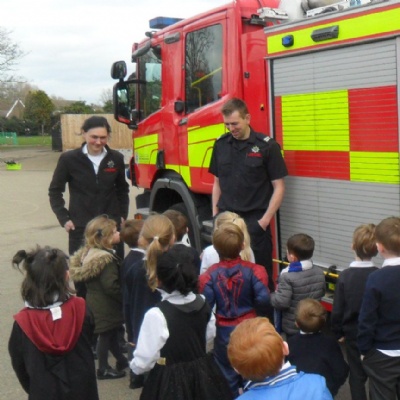 Talk Homework: This week we have been working on our number bonds to 10. 0+10=10, 1+9=10, 2+8=10, 3+
7=10, 4+6=10, 5+5=10. You can practise these number facts with your children at home to help them remember and understand them.
Reading at least 3 times a week and record on Boom Reader app.
This week we had a very exciting visit from the St. Neots fire brigade. The children learned how to make their homes safe from fire risks and what to do in case of an emergency. They also got to see first hand the equipment firefighters use and, of course, there was a fire engine! A group of children visited the residents of Hardwick Dene and had a lovely time colouring and doing puzzles with the residents. In phonics, we have been reviewing what we have learnt so far during a consolidation week and we read the book The Egg Moon during guided reading. Maths was all about our number bonds to 10 (two numbers, added together, equal 10). In literacy, we read the story Eliot Midnight Superhero and started thinking about story mountains and writing our own super hero adventure.
Have a lovely weekend!