Week beg 20th Feb - New Spring 2 term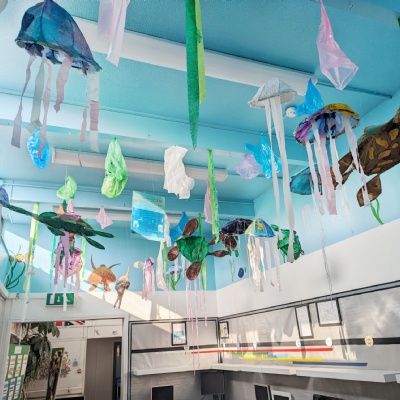 Talk homework: What is a sustainable city? Talk to your adults about what features make a sustainable city/building and see if you can observe any inspiring architectural design this weekend to share next week
We've had a lovely first week of term in Acorn. We've welcomed a new pupil to our team and began several new topics. In geography, DT and art, we'll be investigating sustainable cities and architects ahead of designing and building our own later this term.
We drew our learning from last term to a close by sharing our interactive fact files with Year 3 and explaining to them our art exhibition. Year 5's sculptures can be seen hanging near the old library and looks quite impressive – well done everyone.
We're continuing to learn fractions in Maths, which Freya has enjoyed, and began learning about the Mayan civilisation in History (it's been a highlight of Matilda and Toby's week).
We've started our new book in English, Promise, and have explored predictions about what it might be about. We've also developed poems about who inspires us at school, ahead of creating portraits next week.
Tom really enjoyed our special guest for PE on Tuesday, paralympian Sean Rose, who put us through our paces with a HITT work out.
Enjoy your weekend. Don't forget to read, to practise your spellings and complete your SATs Companion homework by next Wednesday please.
Mrs Schmidt