6th January 2023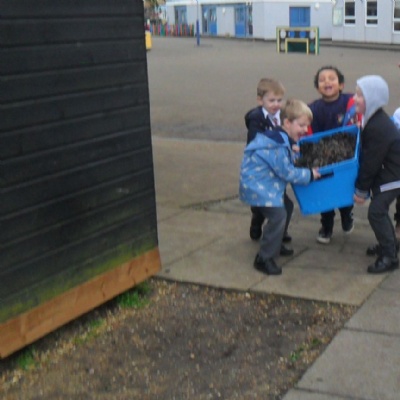 Talk Homework- Talk about your favourite fairy tales and nursery rhymes. Your child can bring in a book of their favourite fairy tales/nursery rhymes to share with their classmates. (Please make sure your child's name is inside the book.)
Reading at least 3 times a week and recording on Boom reader app. Please make sure your child has their PE kit for PE on Thursdays.
In the photo above, you can see the children working together as a team to take the leaf litter from our outdoor area to the compost bin. We learnt how the worms will help to break the litter down. We will check back on it over time to see what has happened.
In maths, we learnt the digit 0. We loved singing the zero hero song. We have then used the stem sentence- ___ has more than______. _______ has fewer than ________.
Holly has enjoyed writing her own fairy tale as this half-term our topic is 'Once Upon a Time'. We acted out 'Little Red Riding Hood' using props to help this.
In phonics, we have been practising the digraphs sh, ch, th and ng. The book we read 'Jazz in the Sun' is available for you to share with your children on the Success for All parent portal.
We have begun looking at the cartoon silhouette art work of Lotte Reiniger. We are planning on making our own shadow puppets and paintings with silhouette.