20th January 2023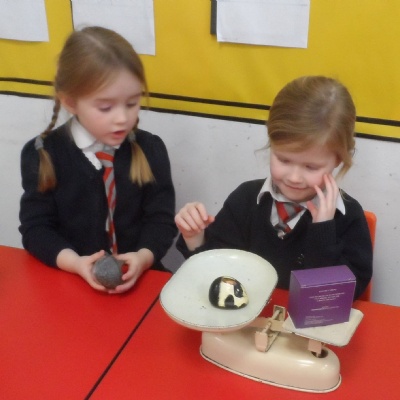 Talk Homework- Next week we will be learning about the Lunar New Year. Share what you know about Lunar New Year with your child and/or research some facts about Lunar New Year, such as: Where is it celebrated? How is it celebrated? What foods are eaten? What clothes are worn? Remind your child of special celebrations in your family.
Reading at least 3 times a week and recording on Boom reader app. Please make sure your child has their PE kit for PE on Thursdays.
This week in maths we've been exploring ways to compare items using their mass and capacity. We've used vocabulary such as heavier, lighter and full, empty and half full. We've also practised writing the numbers 1-5, thinking about correct formation of the numbers. The children have enjoyed making predications about items, thinking which may be heavier or lighter. They were surprised to learn that just because an object is bigger, does not mean that it is heavier. In phonics, we've earned the digraph 'ee' and we've read the book Sock Shopping in Guided Reading. We've continued to practise writing sentences and now the children are signing in during morning registration using their first name and surname. We've had our first full week of show and tells and they have been wonderful. The children are thinking about fairy tales and have done well incorporating their objects to our topic. In PE, we've started throwing and catching beanbags using an underarm throw and holding our hands as if they are a "fruit bowl". In Collective Worship, we have been learning about Baptism.
Have a lovely weekend!