Friday 17th December 2021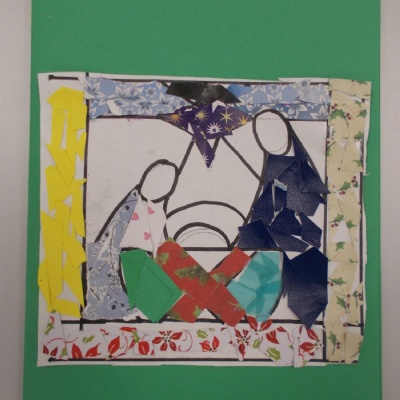 We have had an excellent last week. So many good things to tell you about. On Tuesday and Wednesday we finished our Skills Builder project, 'Going Green'. This project involved designing and making a Christmas tree decoration out of materials that were Eco friendly. The children chose to use natural objects such twigs and items that were destined for recycling, but we re-used instead. The children worked so well in teams and thought of team names that reflected the project and Christmas. They made snowmen, Christmas lights, Christmas trees, and nativity scenes. Their creativity skills were definitely displayed along with teamwork, aiming high and staying positive skills. Their final products were just lovely, and they really loved what they had made.
We also finished our Nativity scene Christmas cards that we made by collaging unwanted paper from magazines. Again their creativeness was evident and their choice of colour and collage skills really brought the scene to life.
On Thursday and Friday we conducted a DT project to sew a Christmas tree decoration out of felt. They were very successful, and their final trees were just lovely.
I don't know how, but we also managed to write our own versions of The Magic Finger. The children's stories were so imaginative, and they all thought of such good scenarios which reflected the structure on The Magic Finger. I was so impressed with how the children were able to do this. In maths, we have started to learn about how we can use arrays to multiply.
The children have worked so hard this term and really deserve a holiday. They have tried their absolute best in everything that we have done, and I am excited about the spring term already.
I hope you have a wonderful Christmas full of fun.
Thank you for all the Christmas gifts that your children gave me they were very much appreciated and it was very kind.
Take care and Merry Christmas
Mrs Tarpey