14th January 2022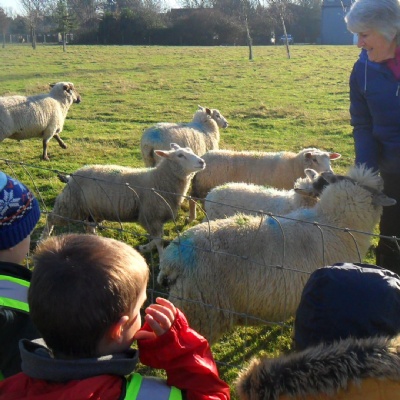 Talk Homework- Via teams please see the assignment and attach a photograph. We are learning about 'Goldilocks and the Three Bears' next week. Linked to this could you find 3 items of various sizes and order them from small, medium to large. Use this vocabulary with your child.
Reading- 3 times per week
Today we visited a local farm where a new woodland is being planted. We got to help to plant some trees including oak, cherry and sweet chestnut. We added our names to the tags. We will revisit the trees to check on their growth soon.
Our story in Literacy has been 'The Gingerbread Man'. We have read/ watched several versions of the story and used a story map to retell it. We also wrote speech bubbles using the repeated phrases.
In maths, we have been learning about 'one more' and sequencing multi link towers noticing how they go up one each time like steps.
In phonics we have learnt th, ng, ai and ee. We have used these sounds to segment and write words.
In PSHE, we have read the story 'Yuck' which led to discussion about foods we liked and didn't like.
PE is now on a Tuesday and this week we were throwing and aiming at targets.