12th November 2021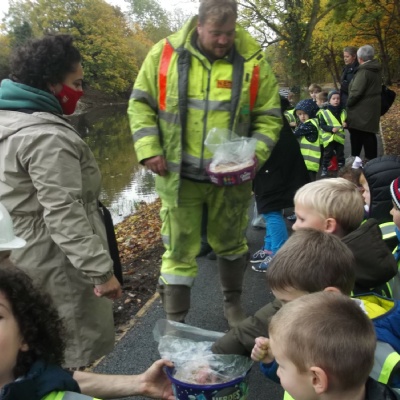 Talk Homework:
*Talk to your child about how to cross the road safely with an adult and ways they can be safe on their bike and/or scooter (for example, wearing a helmet). Tier 1: safe, crossing, pavement Tier 2: vehicle, zebra crossing Tier 3: pedestrian
*Talk to your child about signs you notice (and their meanings) on the journey to and from school.
*Help your child choose fancy dress to wear on Friday for Children in Need and discuss why they are doing it. Remember, you don't need to purchase anything new -- recycling is a great way to make a costume.
What a busy week!!! We began with a Diwali day, when we got to learn all about the Hindu festival and took part in food tasting, craft and role play activities around this. We had another special afternoon outing visiting the Millennium hall area of Buckden and seeing the conservation and development work being done to improve the valley area. It was fascinating watching the workers instal some support posts using a digger. We even got to feed the ducks.
In maths, we have been learning the vocabulary of more, fewer and equal when comparing groups of numbers. We used towers, numicon and fingers to play a game with our friends, showing an amount each and who has more, fewer and when the amount is equal.
In phonics, we have learnt b, f/ff, l/ll and ss as well as the tricky words the, no, to, go, into.
Yesterday we spent time talking about Remembrance day and the significance of the poppy. Together with the lower school children we took part in a 2 minute silence.
We have also begun to listening to the songs for our class nativity.