2 December 2022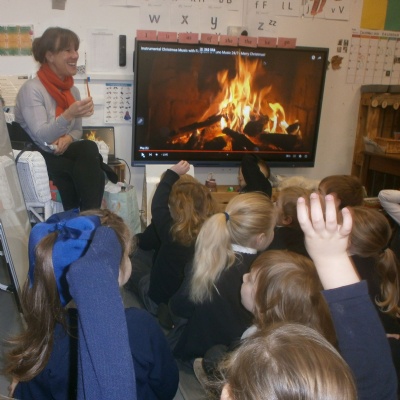 Talk Homework: What does Advent mean to Christians?
As always please ensure you read at least 3 times a week at home and record this on the Boom Reader app.
Please ensure all nativity costumes are in school, named, for Monday 5th December.
We had a special visitor this week - Jacquetta, a dentist in St Ives, came and talked to us about looking after our teeth. We learned the words calcium and fluoride and Jacquetta brought lots of lovely things for us, including a tracker to record every time we brush our teeth, toothpaste and stickers!
We have begun our nativity rehearsals in the hall this week. The dances, singing and acting are beginning to come together ready for you to watch next week.
In phonics, we have learned the digraphs zz, qu and ch. We read Mud on the Van and Sam and Ted. The children are certainly gaining their confidence with their reading and becoming more comfortable answering questions about the text they've read.
In maths, we have been matching up equal groups and then looking and groups which have more and which have fewer. We even talked about numerical difference in the totals eg. she has 2 more than I have.
We have a book advent, in which the Helping Hand can choose from a selection of festive, wrapped books -- one Christmas book a day leading up to Christmas.
Have a lovely weekend! I hope those elves on the shelves behave themselves!