21st October 2022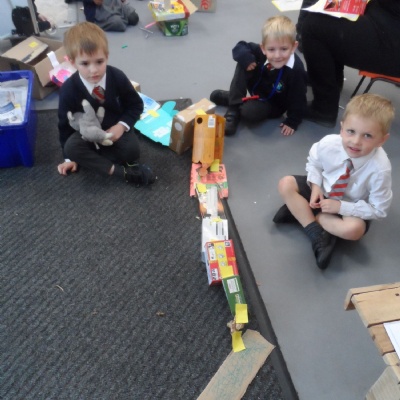 Talk Homework- Your children have been sent home with the Phase 2 phonics graphemes/sounds for you to practise over half term. We have also sent home a name sheet, so they can practise writing their name.
The shared reading text we've completed this week is 'Pip Can Kick'. You can access this electronically on the Success For All Phonics Parent Portal.
Keep up with three times a week reading and recording on the Boom Reader App.
Today was a lively day of construction! As part of our history and geography curriculum, the children made a fantastic junk modelling recreation of Buckden village. They thought about the buildings they had seen on our village walk; then they used their design and technology skills to recreate the building with recycled materials. They were extremely proud of their model village!
In maths, we thought about the composition of numbers up to 3. In PE, we put out the apparatus for the children to have fun using and developing their gross motor skills with hanging, climbing and swinging. In phonics, we learned the graphemes and phonemes of h, b, f, and ff. In music, the children really love listening to Our House by Madness!
Have a super half term everyone! Well done!