13th January 2023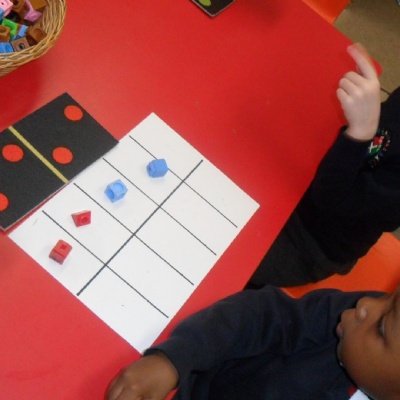 Talk Homework- Next week in maths we will be exploring capacity and mass. Compare the mass of different objects and talk about what is heavier, what is lighter, what is equal (the same). Explore different materials such as water, rice and/or lentils and let your child pour them into different sized containers. Use the language of full, empty, half full, nearly full and nearly empty.
Reading at least 3 times a week and recording on Boom reader app. Please make sure your child has their PE kit for PE on Thursdays.
This week we have read the story The Gingerbread Man. We found the characters and set up a small world with the cheeky gingerbread man so we could re-enact the story.
In maths, we have been learning the composition of 4 and 5. As you can see in the picture above, we used the dominoes and selected all that had the total of 4 or 5. Then we used the 10 frames to create the addition calculations with counters.
In Science, we have started to explore shadows by selecting different materials and investigating the shadow they create. We used words like see through, blocking light and learnt the terms opaque and translucent.
Our PE this term is multisports and we have been learning to aim using beanbags and under arm throws.
Our phonics digraph for the whole week was 'ai', the train in the rain. The book we read was Ben Gets To Bed and this is available in the Success For All portal for you to share at home.