22nd April 2022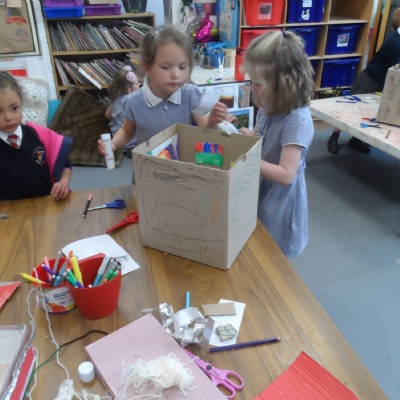 Talk homework:
- Ask your child about the Creative Spaces day today. Some questions you can ask: What did you choose to make and why? Who was in your group? What was the theme of your group (beach, city or woodland)? Which skills did you use (problem solving, teamwork, leadership, creativity)? What were you most proud of?
- Continue to read with your child a minimum of three times per week, remembering to listen to them read as well as reading to them.
The children have returned from Easter break really ready to learn! We've been working on our writing and now write a sentence in the morning in our new writing books. We read the story The Bog Baby and made our own bog babies and wrote a description of them. In maths, we practised counting objects and reminded ourselves that we need to count each object as we touch it and putting objects into groups or lines make them easier to count. Today, we had a lovely day working on our Skills Builders skills doing a Creative Spaces project. We could create miniature artwork using painting, drawing or sculpture and then, working with friends, we designed an art gallery to display our work.
Please note, we are no longer displaying the menu sign in the morning. A copy of the menu is emailed to parents and it is available on the website.