11th March 2022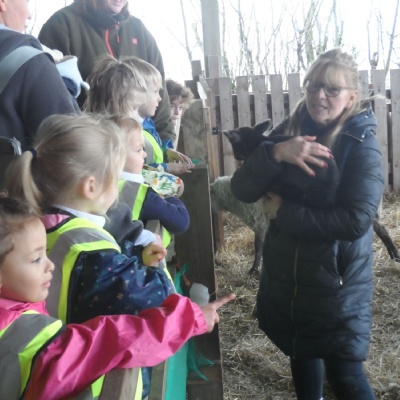 Talk homework:
- Next week we'll be sharing nonfiction books around our topic of People Who Help Us. We'll be learning about Mary Anning. Explore nonfiction books about topics that interest your child and discuss how a nonfiction book is different from a fiction book.
- Read a minimum of 3 times a week with your child, listening to them read as well as reading to them.
The big adventure this week was our visit to the farm! We got to see the lambs and we were even able to stroke some of them. They were so soft. We also saw a tractor and logs and the grain storage, which had barley in it. We learned barley is used to make beer. In maths we explored the number 7, thinking about the composition of seven and using the part whole model. In Literacy we read the book Super Eliot Midnight Superhero and we thought about the beginning, middle and end of a story. We then began to write the beginning, middle and end of our own super hero stories. We're going to finish those up next week. We explored bubbles outside in our continuous provision and we learned about the artist Corita Kent and each contributed a panel to create a massive piece of artwork in the style of Corita Kent. In PE, we choreographed the beginning of our superhero dance and the children had some great ideas for superhero sequences.
Have a lovely weekend!