25th February 2022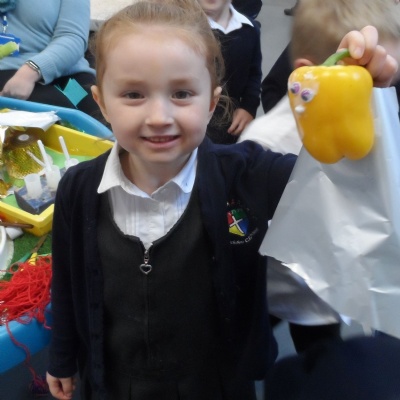 Talk Homework- Next week we will be learning about the power of magnets. Please talk with your child about items that are magnetic and use the vocabulary of attract and repel. If you have any magnetic toys or games you may like to bring in and share that would be great.
Reading- Read at least 3 times a week and record in reading logs.
To kick off our new topic of Superheroes, we read the 'Supertato' books. We managed to trap the Evil Pea in some jelly on Tuesday but on Wednesday morning he had escaped!!!!! This led to the children creating their own WANTED posters to try and recapture the traitorous pea again.
In maths, we have been making totals as 5 and how many more to make 6, 7, and 8. The children used ten frames and part part whole models with their playdough to demonstrate this.
In PSHE, we have started talking about our 'Safety Circles' and who to get help from in different circumstances if we ever needed to.
This week, we have started our new PE topic of dance. It was so much fun expressing ourselves to the Superman and Star Wars theme tunes. Mrs Woodward felt quite frightened by the fierceness of our movements and facial expressions as we danced.
In art, we have created our own super veg by selecting materials to add. We also helped the evil pea find his way out of some frozen ice and used tweezers to crush the Evil Peas as we sorted them from the other mixed veg and laid them onto ten frames.
What a busy week but so much fun.