3rd December 2021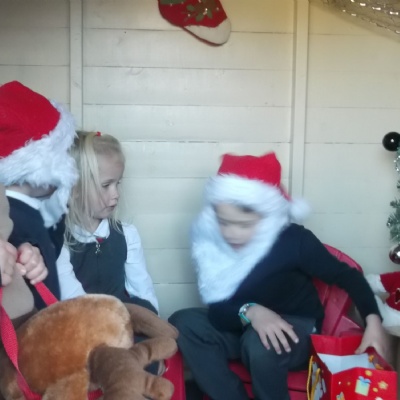 Talk Homework: See if your child can retell the nativity story to you.
Please also remember to bring in any costumes requested on Monday as we will be doing a dress rehearsal.
This week we have learnt about the Jewish festival, Hanukah. We learnt about the menorah and how a candle is lit each day of the Hanukah festival. We played with a dreidel, learning the Jewish symbols and words as we did so.
Outside, we had a wonderful time creating Santa's Grotto. The children have loved role playing as Father Christmas, elves and Rudolph. It inspired some children to build a sleigh from the large construction equipment, one sleigh even had a first aid kit incase Santa or his elves had a mishap!
In phonics, we have learnt x and y and in maths we have begun to develop and understanding of matching digits to 5 to quantities to 5 including recording some numbers.
Most exciting has been the start of rehearsals for our Nativity. The songs are sounding amazing.