01.04.22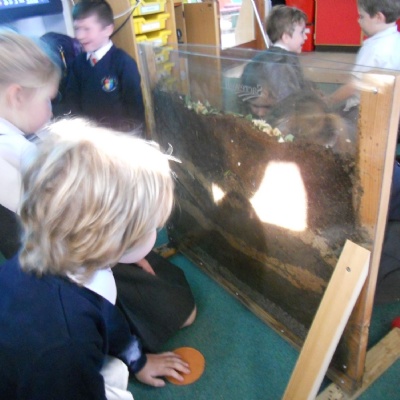 HAPPY EASTER!!!! A special thank you to Mila's Mummy and the Education team at Sacrewell Farm for bring in a wormery and growing kits.
Homework –
Spellings – There are no spellings due to the Easter Holidays.
Talk homework
Happy Easter!!!!
Abacus - The children can access this resource via the website and complete one game as their Mathematics homework. https://www.activelearnprimary.co.uk
The children have their own log in details, these can be found in their reading diaries. The school code is kmm7 in the bottom box.
Reading
Please see the letter regarding reading expectations in the front of your child's reading diary. Please ensure your child has their reading folder in school every day. The children will bring home a weekly reading for pleasure book, as well as their reading book. This is to share together and promote a love for reading.
Phonics
Practice reading, writing and sound buttons on your real and nonsense words.
We have all had a very busy week. We have ordered and remembered all of our learning of the Easter Story. We have completed a Skills Builders project (Dream Spaces). We designed and build a model of our own dream garden and of course included lots of sustainable ideas to help the environment.
Wishing you all a very Happy Easter.
Stay safe.
The Year 1 email address in a direct way of contacting the Year One Team –
year1@buckdenacademy.org
Have a safe and happy weekend.