14th January 2022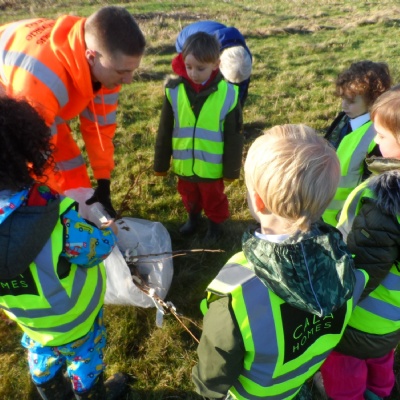 Talk homework:
We are reading Goldilocks and the Three Bears. Find three items of different sizes. Take a photo of yourself with them.
Reading: 3 times a week
We have just returned from our walk to a local farm where a new woodland is being planted. We were able to watch how the saplings are planted and we placed labels on the new saplings with our class name and our names. We will be able to watch the trees grow and woodland develop over the years.
We have learnt the story of the Gingerbread Man this week and we practised writing sentences for the different characters. In Maths we practised 'one more' than a number and we built towers to show how the numbers increase. In Phonics we learnt th, ng, ai and ee. We have been working on segmenting words to improve our writing. In PSHE, we discussed food that we like and don't like and we learned about using our senses to help us calm down. In PE this week were working on aiming and throwing at targets.